35#NR4-IB pattern Trading System
Submit by Janus Trader 06/06/2012
Time Frame H4 or higher
Currency pairs:all.
Indicators
Historical Volatility Ratio
VM price action (Set everything to "false" except IBS4 )
MA3
Let's take a look at each one in complete detail so there is nothing left to guess work. We
will start by looking at both the NR4 and IB and then move into looking at the HVR.
This seems to be the most logical progression in this case.
The NR4/IB Set Up
The NR4/IB set up is a combination of a narrow range bar that is the smallest of the last four bars while at the same time is an inside bar against the previous bar.
Let's look at each component and bring it together so you can easily identify this set up.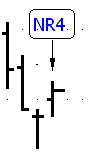 (NR4) Narrow Range 4 Bar: (above) A NR4 is a bar with the smallest range of the
previous four bars to include the current bar.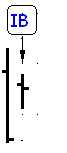 IB) Inside Bar: An inside bar is a bar where as the high is equal to or lower
than the prior bars high and the low is equal to or higher than the prior low. It's
important to note here that only the high OR the low can be equal to the prior high
or low – not both. It's crucial that either the high or low be inside of the prior range.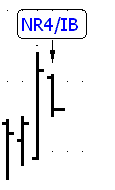 (NR4/IB) Narrow Range 4 Inside Bar: (above) To have an Inside Bar Narrow Range
the current bar has to be a combination of both a NR4 and Inside Bar as describe above.
Long Entry
Once a NR4/IB has been identified, if the pattern is above the MA
place a buy stop order one pips above the high of the NR4/IB bar.
Short Entry
Once a NR4/IB has been identified, if the pattern is below the MA
place a sell stop order one pips below the low of the NR4/IB bar.
Stop loss
10 pips below the low or high of the same NR4/IB bar.
Profit Target
20-30 pips for 4h TF;
40-60 pips for daily TF.
Optional filter:
Entry only if Hvr is below of 1.00
VM Price Action