1# Camarilla Equation Levels
Submit by Forexstrategiesresources
The Camarilla Equation produces 8 levels from yesterday's open, high, low and close. These levels are split into two groups, numbered 1 to 4. The pattern formed by the 8 levels is broadly symmetrical, and the most important levels are the 'L3' and 'L4' levels. Traditionally, while day trading, traders look for the market to reverse if it hits an 'L3' level. They would then open a position AGAINST the trend, using (according to the 'classical' rules) the associated 'L4' level as a stop loss.
More modern theory suggests setting stoplosses that appear to you the trader to be prudent, and to not even open the trade until it has penetrated the level in the 'right' direction, i.e. demonstrated that it has found resistance (or support). In the case of the higher L3 level, this would mean that price had already reversed and pushed back down thru the level, heading south.
The second way to try day trading with the Camarilla Equation is to regard the 'L4' levels as 'breakout' levels - in other words to go WITH the trend if prices push thru either L4 level. 
This essentially covers all the bases - Day Trading within the L3 levels enables you to capture all the wrinkles that intraday market movement throws up, and the L4 breakoutplays allow the less experienced trader to capitalise on relatively low risk sharp powerful movements. Here's what it looks like in action:
Camarilla historical pivot points levels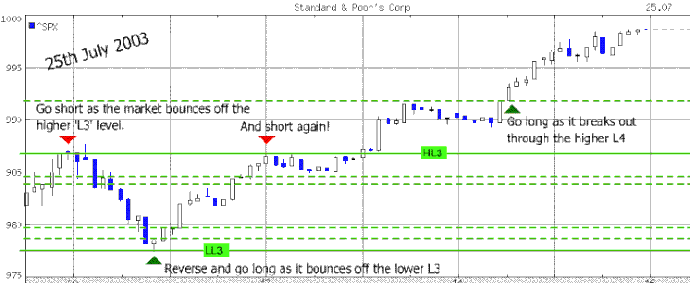 Pivot Poins Forex Strategies
Share your opinion, can help everyone to understand the forex strategy.

Camarilla Historical ver.2
Forex Indicator:Camarilla Historical ver.2 Camarille are the pivot points levels.
camarilladtHistorical_V2.rar
compressed file archive
5.5 KB