6# Triple Confirmation MT5 Forex and Crypto Strategy
Price Action Momentum Strategy
Arrow alert with 3 confermation
Submit by Joy22
Triple Confirmation Forex and Crypto Strategy MT5 is a price action momentum strategy based on a volatility arrow confirmed by trend momentum indicators, however trades must follow the direction of price action based on reactions on supports and resistances. This strategy is conceptually very valid and has a high profitability because the volatility signal (the arrow) to generate a valid signal must have three confirmations, as well as being in the direction of the price action of the price. The most important confirmatory indicators are the Parabolic Sar. Color Trend and Awesome. This trading system is suitable for all types of currency pairs but in particular for those with higher volatility such as the VIX index and major Crypto.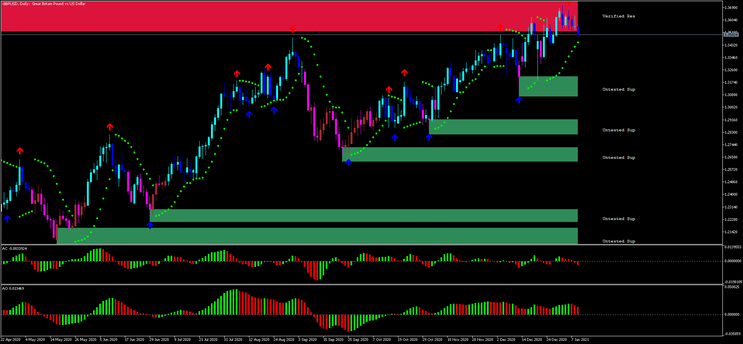 Setup Strategy
Time Frame 15 min or higher. Best time frame daily.
Currency pairs: any recommended volatility pairs, good for VIX index. Crypto time frame 4H or higher.
Metatrader 5 indicators
Colour trend (paint bar)
Support and resistance zone (with with verified zones)
Spike indicator
Accelerator
Parabolic Sar (0.03-0.2) but my advice is to check the best setting in each time frame.
Awesome oscillator.
Trading Rules Triple Confirmation MT5 Forex System-
Buy
Price above support zone.
Arrow buy of Spike indicator
Three confirmation among those indicated:
Parabolic Sar below the candle.
Colour trend blue paint bar.
Awesome green bar
Accelerator green bar.
Sell
Price below support zone.
Arrow sell of Spike indicator
Three confirmation among those indicated:
Parabolic Sar above the bar.
Colour trend red paint bar.
Awesome red bar
Accelerator red bar.
Note: Trending for a more aggressive trade: Spike, Parabolic Sar and another confirmation are also fine. The three confirmations are requested in reversal. Don't worry if sometimes the Partabolic Sar, even if configured in a fast way, lags behind the Awesome and the Accelerator.
Exit position
Place initial stop loss below/above support and resistance zone.
Profit Target with minimum ratio stop loss 1:1 or at opposite arrow.
EURUSD H1
4 Sell trades all in the direction of the price action below the resistance zones.
GBPUSD 4H
Again there are trades in the direction of the support and resistance levels. All trades have three confirmations. Sometimes the Parabolic Sar is lagging behind but there are other indicators that confirm the trade.
US30 H1
In this image there are 3 winning trades (2 buy and 1 sell) and 1 buy loss).
There are two examples of how this strategy can be profitably applied to Crypto, in this case Rippple and Bitcoin, but at a time frame of 4H or higher.