106# 1 min Scalping with 34 Exponential Moving average channel
1 min Scalping with 34 EMA Channel
When price is above the MAs (Moving Averages) we are only looking to
buy as price comes back to the MAs.
(…and when price is below the MAs, we are only looking to sell when price
comes back to the MAs).
What we're looking for when price pulls back to the MAs is for it to hold
and then show that it is going to continue.
We look for this continuation signal in terms of a strong, momentumdriven bar.
That trade would have been a minimum of 1:1 profit – and perhaps 2:1 if
you held-out for more.
Now – that's really all there is to this system:
1) – Wait for pullback
2) – Enter when momentum comes into market
3) – Exit when momentum slows (or you're not in profit within a
minute or two)
When the market has already moved a significant amount that day – I will
not enter in the same direct expecting a further move.
Sometimes the market will "grind" down (or up) slowly in a direction when
you enter a trade ...and other times it will drop (or rise) quickly without
looking back.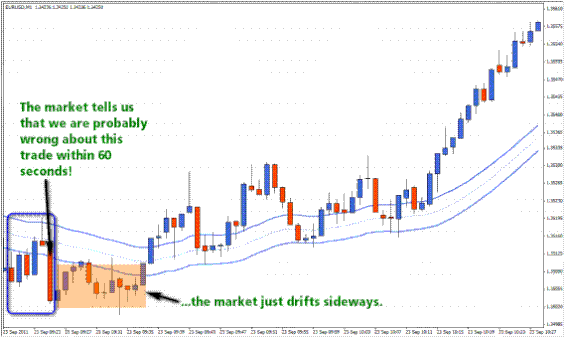 Quite often a failed trade in one direction is your guide to the market
going in the opposite direction – so keeps your wits about you!
Share your opinion, can help everyone to understand the forex strategy.
1 min scalping forex strategies
EMA Forex Strategies