34# Binary Options Strategy: AGTS V.5
AGTS V.5 binary options strategy High/Low
Submit by Nurayev 24/12/2013
Binary Options Strategy: AGTS V.5 is a Strategy High/low (trend following),
Best signal AGTS winner signals.
In this post i have shared AGTS V.5, and AGTS V.5.1.
Try this binary options strategy and good look.
Below the rules in Russian, but don't have english rules, please to share, the translate in english.
Откройте дэмо счет у брокера бинарных опционов OptionFair Account 3. Распакуйте архив в указанные папки. 4. Запустите терминал и откройте шаблон agtswinner v5.0 5. Откройте свойства и настройте расположение индикатора на графике – это будет зависеть от разрешения вашего экрана. Для экрана с разрешением 1366х768 установлены стандартные параметры по оси «х=1100»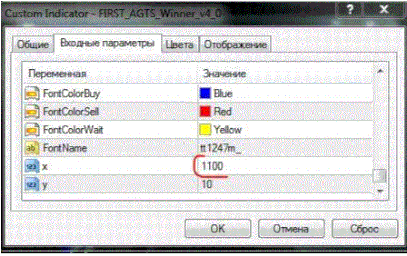 Настройте расположение второго индикатора, так же по оси «х»
Правила настройки: значение «х» - это количество отступаемых пикселей от левого края. Чем значение больше, тем дальше индикатор отдален от левого края.
Правила настройки: значение «х» - это количество отступаемых пикселей от левого края. Чем значение больше, тем дальше индикатор отдален от левого края.
Правила торговли
Торговать, только в хорошем настроении(если плохое настроение, то даже супер пупер индикатор не спасет вас)
Торговать, только в Европейскую и Американскую сессию. (желательно в Европу: с 11:00 до 13:30 по МСК времени; в Америку: с 18:30 до 21:00 по МСК времени.) 3. После каждых 3-х купленных опционов, сделайте передышку на 30 мин. Не торгуйте слишком долго. Максимум 2-3 часа в день. 5. Торговать следует, только на парах EUR/USD USD/JPY AUD/USD USD/CAD 6. Не торговать во флэте. После срабатывания звукового сигнала, появится стрелочка с указанием актуального направления. Для подтверждения сигнала, нужно, что бы нарисовались две стрелочки(одна большая, другая маленькая)одна под другой. Если первый столбик показывает значения того же направления, что и стрелочки, то можно покупать опцион.
Три дополнительных значения справа играют менее важную роль, но если они тоже показывают одно направление, то вероятность срабатывания сигнала возрастает.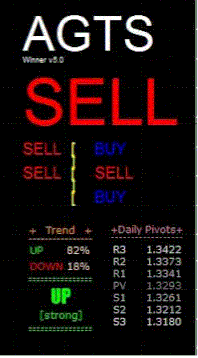 Не торгуйте в выход экономических новостей. В такие моменты следует подождать 5-10 мин до выхода новостей и после.
Пример сигнала:
Binary Trading

Binary Options Strategy: AGTS V.5 (Indicators and Template)
Binary Options Strategy: AGTS V.5 (Indicators and Template)
AGTSWinner v5_0.rar
compressed file archive
196.9 KB

Binary Options Strategy: AGTS V.5.1 (Indicators and Template)
Binary Options Strategy: AGTS V.5.1 (Indicators and Template)
Agts v5_1.rar
compressed file archive
190.6 KB