49# 3 Ma Cross Alert, end of the day, Binary Options Strategy
Three moving averages Binary Options High/Low
Submit by Joy22 02/03/2014
(This Binary Strategy is for Roger .M)
3Ma Cross Alert is an end of the day Binary Options Strategy trend following.
Markets: Indicies (S&P 500, Nasdaq,), Currency pairs ( any), Metals (Gold and Silver).
Time Frame 60 min.
Expires time: end of the day.
Forex Indicator:
3 Ma Cross alert (Three moving averages 5 , 21, 31).
Rules for 3 Ma Cross Alert, end of the day, Binary Options Strategy-
Draws on the chart the lines of the hours of the day: 00:00 8:00 24:00.
The Best GMT is London but You can also experiment with GMT New York and Tokyo.
Buy Call

Wait the first buy arrow after the 8:00.
Buy Put

Wait the first sell arrow after the 8:00.
Re-enter if appears a new arrow.
This Binary Options Strategy is also good for trade in the curency markets or indicies.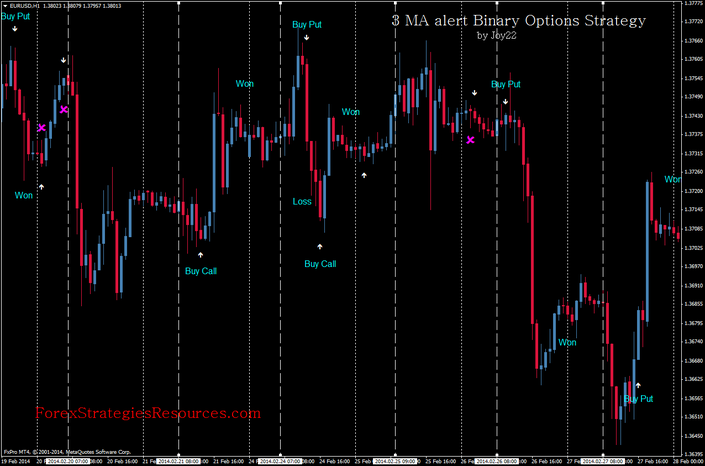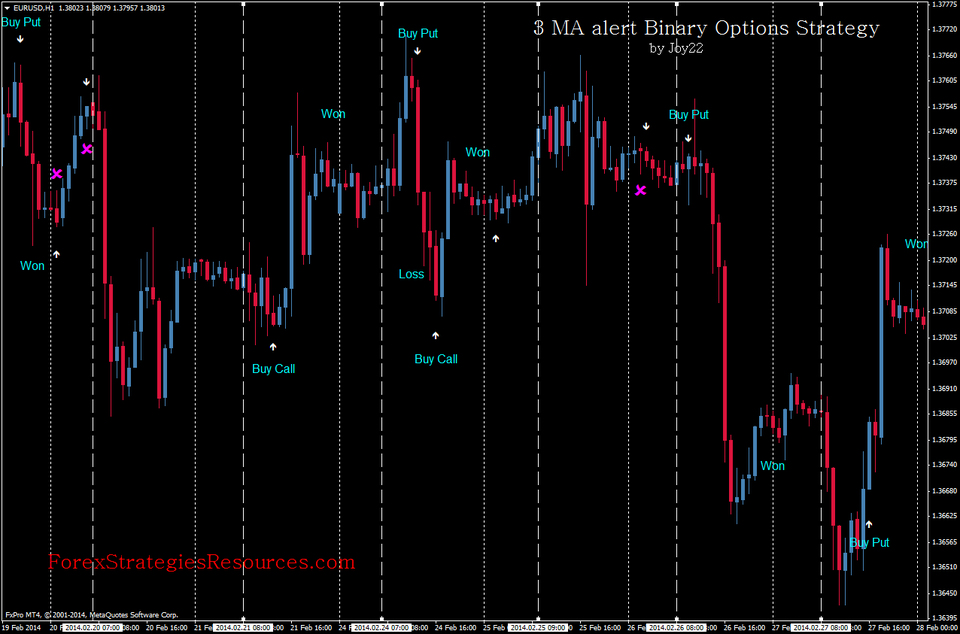 add filter and setting p, p2, p3, p4 = 11
Confirmed signal with at least two bars of the filter with the same colour.
See example.

3 Ma Cross Alert, end of the day, Binary Options Strategy
Three moving averages Binary Options High/Low
3 Ma Cross Alert, end of the day, Binar
compressed file archive
10.6 KB