498# ITM X-Gen Daily Scalper Indicator
1 minute scalping
Submit by Leonida 07/01/2016
ITM X-Gen Daily Scalper is a indicator professional for trading only at 1 min time frame. This indicator is suitable for scalping or binary options high / low. The indicator indicates the direction of the trend and the moments to buy or sell.
Indicator produced by the ITM Financial 2012
Time frame 1 min
Financial markets: any with low spreads.
Binary options high/low expiry time 6-10 candles.
You can use this indicator following the directions given.
Or by defining with other indicators the trend and using only the arrows.
Simple trading rules ITM-X-GEN Daily Scalper indicator
Trading in the direction of the trend.
Buy
Trend long and buy arrows
Sell
Trend short and Sell arrows.
Place initial stop loss 6 pips below/abow the bands.
Profit Target predetermined or based by the volatility of the momentum.
In the pictures ITM X-Gen Daily Scalper Indicator in action.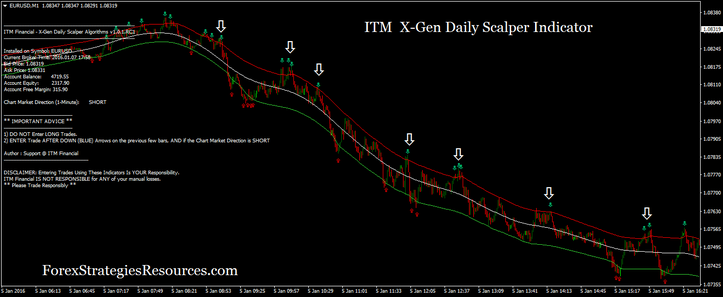 Share your opinion, can help everyone to understand the forex strategy