558# Keltner Channel Intraday
Keltner trading
Submit by Alienfx 27/12/2016
Keltner Channel Intraday is a clean and simple template for trading. This strategy is trend following. It's based on keltner channel indicator and deep bar a medium trend filter, this combination can generates gain. Open four – six charts and apply the template, you find the best trading conditions. The best conditions are the markets in trend.
Time frame 5 min or higher.
Financial markets: majors.
Metarader Indicators:
Keltner Channe F1 (Ma period 14, ma mode, 3, Atr period 21, k=0,628);
Pivots D;
Deep Bar indicator (20 period, deviation ) as filter.
Trading Rules Keltner Channel Intraday
Buy
Blue Star of the keltner Channel Indicator.
Deep bar dodger blue color.
Sell
Gold Star of the keltner Channel Indicator.
Deep bar red color.
Exit position at the opposite star or make profit at the level of the pivot points.
Initial stop loss at the previous swing high/low.
AdVantage of this trading system is that works great in trend.
Disadvantage this system can generate false signals in sideways market.
In the pictures Keltner Channel Intraday in action.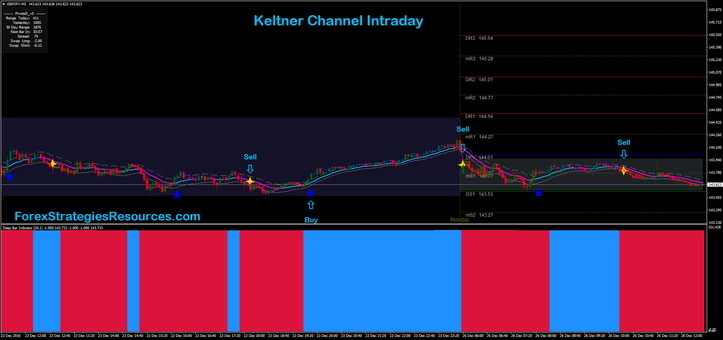 Share your opinion, can help everyone to understand the forex strategy

Keltner Channel Intraday is a clean and simple template for trading
Keltner Channel Intraday.rar
compressed file archive
146.1 KB