514# Dax Scalping
Scalping with the trend
Submit by Ifogenius6 09/04/2016
Dax Scalping is a system trend following very simple and clear. This system was created for Dax but can also be used on other stock indices and major forex pairs.
Time frame 5 min or higher.
Financial Markets: Dax, S&P 500, Dow, FTSE, CAC40, MIB30 and other indices, EUR/USD, GBP/USD, USD/JPY, USD/CAD.
Metatrader Indicators:
Confirm1 (line dot blue and line dot red);
Confirm2 (dot blue and red);
Confirm3 (dot blue, dot yellow and red);
You can use this trading system as a filtering tool, of other indicators of arrow.
In this case it is very efficient.
Trading rules
Simple buy entry
line dot blue crosses above line dot red.
Confirm 2 blue dot,
Confirm 3 indicator two blue dot.
Simple sell entry
line dot red crosses above line dot blue.
Confirm 2 red dot,
Confirm 3 indicator two red dot.
When the confirm 3 has a yellow dot the direction is flat.
Another type of entry is on the retracement of the price on the lines, for experts.
Exit positions:
at the opposite cross, with predetermined profit target or at the pivots levels.
In the pictures, Dax scalping in action.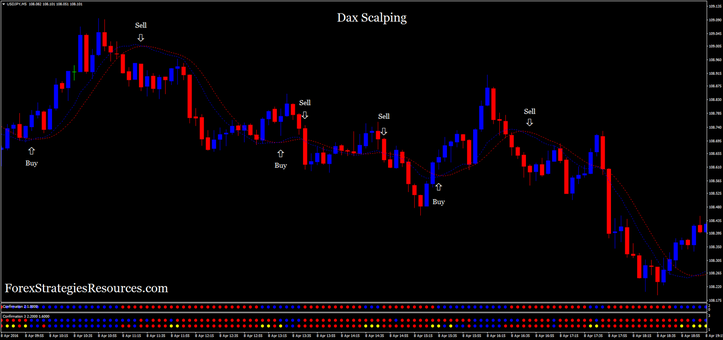 Share your opinion, can help everyone to understand the forex strategy