88# Riding The Trend after Retracement Trading System
This set up help me to trade in the direction of the long term trend and shows me in which direction the big boys (BANKS) are trading.
SET UP FOR A SELL TRADE

1) Open the Daily chart, plot 200 days simple moving average of close on this chart.If the price is below the 200 SMA and the SMA is pointing down (IMPORTANT), first criteria for sell trade is met and now I am looking for selling opportunity in this pair.

2)For My entry signals Now I open the 4 hour chart of this pair and plot ZigZag indicator with settings 3,5,3 and sett the line little thick so that the swings are clearly visible.And Now I wait for the price to retrace and start making higher highs and higher lows.This I call the retracement waves on the 4 hour chart.
3) As I know this retracement is done once the price forms consecutive lower lows and sarts heading again in the direction of the long term trend.that is in the direction of 200 SMA on the Daily chart.

4) Now I place the sell stop order for three separate lots 2pips+spread below the second lower low on 4 hour chart.

STOP LOSS AND PROFIT TARGETS.

For all three lots I place the stop loss of 100pips( It can be adjusted by few pips if the recent high is near and I put my stop 20 pips above that high).
On first lot the take profit is 200 pips,on second lot it is 400 pips and on final lot the take profit is 600 pips.( Take profit targets can be adjusted by few pips if a support / resistance levels on Daily chart is near).
MANAGING THE TRADE------
Once I am in the trade I never never never temper with it.Yes I move my stop to break even when my second target is hit

IMPORTANT---

1-- Steeper is the slope of 200SMA Higher is the chance of trade being profitable.
2--Only use Sell stop orders
3--After the retracement is over Place sell stop below the second consecutive lower low only and never try to enter the trade early.
4-- Reverse the action parameters for long trade.
5--See sell set up and buy setup trade examples in the attached charts.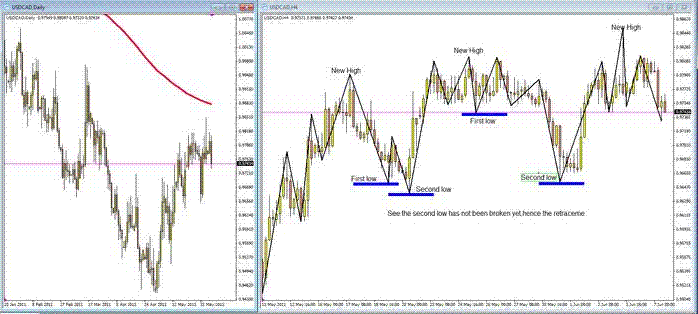 Long term down trend as price action is below 200 SMA on daily chart.The price has retraced from 9445 to 9850. I am looking forward to Zig Zag to carve consecutiv lows on 4h chart.The ccnsecutive lows has already been formed two times but my sell stop order was not filled both time. Let us see what happens third time.
Share your opinion, can help everyone to understand the forex strategy.
Retracement forex Strategies