120# EMA, RSI, Trading System
Two exponential moving averages with relative strength index (RSI)
Submit by Janus Trader 04/02/2012
Stop loss = 20 – 30 pips… depending on the volatility of the currency
pair. For more volatile pair, like GBP/USD, stop loss = 30 . For less
volatile pair, like EUR/USD, use stop loss of 20 pips.
Timeframe: 1-hour
Exit Rules for Long Trades:
Exit the trade when EMA 5 crosses back below EMA 12
Or when RSI 21 < 50.
Or when price stalls at major resistance, trendline, pivot points,
In the pictures below EMA, RSI, Trading System in action.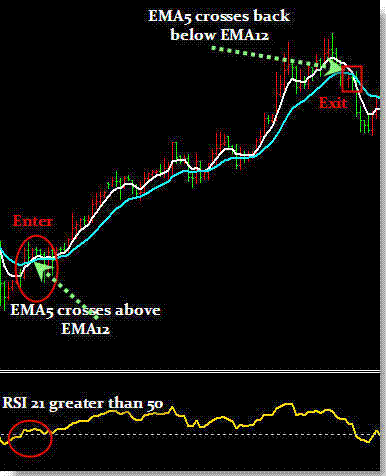 Share your opinion, can help everyone to understand the forex strategy
RSI Forex Strategies