328# 5 min Stochastic Scalping System
Stochastic trading method
Submit by MJ 25/04/2013
This is very profitable scalping system where you don't have to
think at all. This is strategy is a Stochastic Trading Method MTF forscalping in tyhe forex markets.
Currency Pairs: EUR/USD and GBP/USD
Indicator:
the Stochastic Indicator will do it for you.
Timeframe: 5min chart
Indicator: Stochastic – parameters 13/8
Trade:
Open 15 or 30 min chart and determinate the current trend.

If trend is up – use long (buy) trades only. Let's say the
current trend is up and the price has been up. Then the
market pulls back – the stochastic indicator crosses down
too. No Entry here (current trend is UP).
3. Once the price bounces the bottom (support) and goes up
again – wait till stochastic crosses and place "buy" order (go
long..)
4. Always place a stop loss 2 pips below the stochastic
crosses... Target 5-10 pips profit.
5. The opposite rules if the trend is down.
In the pictures below 5 min Stochastic Scalping Systemin action.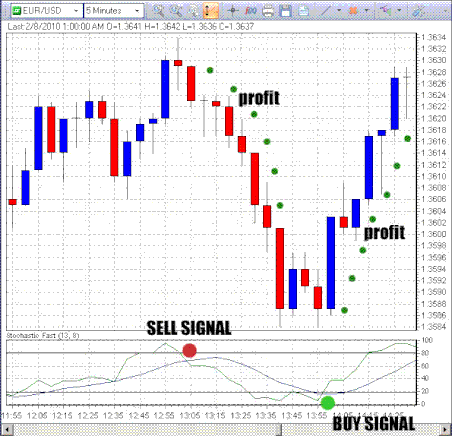 Share your opinion, can help everyone to understand the forex strategy.
Stochastic Scalping System