44# Murrey Math Intraday Trading System
Murrey Math Reversal Trading System
Submit by Noemi 30/03/2013
This Forex strategy is a Murrey Math a reversal trading system
Time Frame H1.
Currency pairs:Majors.
Metatrader Indicators:
Murrey Math Line x setting 60;
Trading time.
Setup for London Session
We always start to look for a potential trade setup at the start of each hour in either the UK session or the US session.
The best entry time is always within the first 30 minutes from the open of the hour candle; however, we never enter a trade near the close of the hour candle because price may reverse in the opposite direction.
After 40 – 45 minutes have past it is best to wait for the next hour candle to open to look for another setup but it is ok to look for trades from say 9:00AM to 9:40AM.
#2 Murrey Math levels
You need price to open at the start of the hour and bounce off of a major line level (1/8, 2/8, 3/8 6/8, 7/8, 8/8) then reverse back up/down to buy or sell.
Buy Zone: 1/8, 2/8, 3/8.
Sell Zone: 6/8, 7/8, 8/8.
If an candle is long and go by the two zones, do not trade.
#3 entries:
Once the candle changes from red to blue by 3 pips you will buy.
Once the candle changes from blue to red by 3 pips you will sell as long as it just bounced off of a major lines level .
#4 stops and profit targets:
Your stop loss will be 1 to 5 pips below the swing low of the current hour candle you are trading.
Your take profit target will be the closest level line or ratio 1.3 Stop Loss.
In the pictures Murrey Math Intraday forex system in action.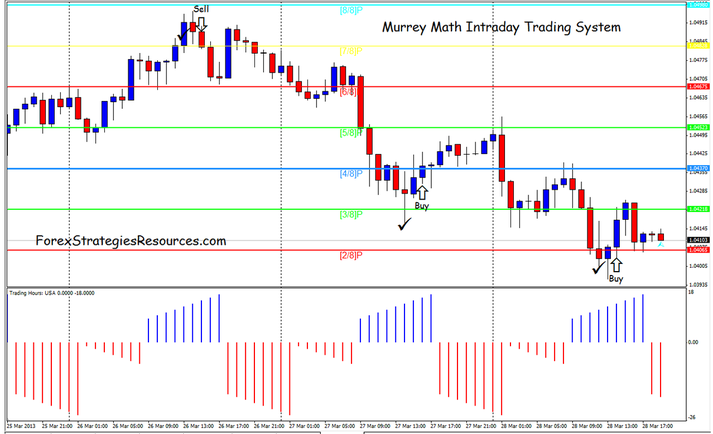 Share your opinion, can help everyone to understand the forex strategy.
murrey math intraday trading

murrey math intraday trading
murrey math intraday trading
murrey math intraday trading.rar
compressed file archive
1.4 KB
Murrey_Math_Line_X_eng

Murrey_Math_Line_X_eng
Forex Indicator: Murrey_Math_Line_X_eng
Murrey_Math_Line_X_eng.rar
compressed file archive
3.3 KB
TradingHours
Murrey Math Trading Systems