51# Trendline price action forex system
Support & Resistance", "Trendlines", "Major Psychological Numbers, Fibonacci Numbers
The more that we have clustered in a price range, the better the odds of the trade.
Combining fibs and/or round numbers when drawing your trend line will help you, most times, get your trendline in the right spot. Notice in the picture above where the 4th circle is. Had we not used the major
psych number to predict our trendline position/turning point, the trendline could have been off by 20 or more pips and we could have missed the trade, or worse, lost the trade. This should make positioning the trendlinea lot more easy and less like guesswork.
STOPS AND TAKE PROFITS
Unfortunately for the up and coming trader, we will not be telling you how and where to place stops and take profit levels. A few suggestions will be made to give you a helping hand, but at the end of a day, you will need to figure this part out yourself as it will need to suit your personality
Personally, I use the calculation of the fibs thanks to Paulus. For SL, I set my fib level to 0.84 and the TP1, I set it to 0.17 and for TP2, I have a setting of -1.25. Now as an exception, I would use TP2 line if I entered in between 38-50% levels because if price starts falling from that level it will drop in to lower areas like -1.25. I would use the 0 or 100% levels if I have entered in between 50-61% levels. The reason I am taking TP1 at 0.17 level is because sometimes the price will reverse before it makes its move to the 0 or 100% levels, so this way I have secured my profit and I will achieve a better win ratio. Of course every trader will have their own way of setting TPs and SLs. But I just wanted to explain how I did it.
I think as a minimum, every trader should aim for more than 1:1 risk/reward, moving the stop to break even
once price has moved in your favour a substantial amount. We are trading with the trend, prices often move
3:1 RR so it can really pay to be patient and let prices move for you.
Latitude Lines or Psycological level indicator MT4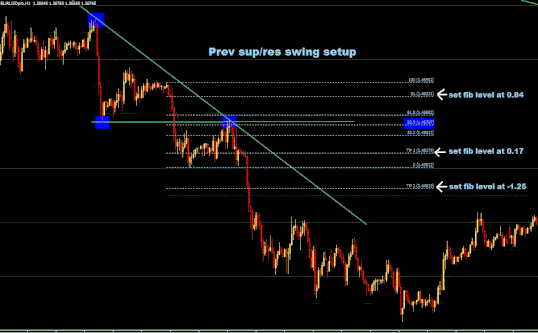 Setup 1.
'Prev sup/res swing setup'
'Prev sup/res swing setup' can have up to 4 elements to the setup. These elements are are previous res/sup turns into sup/res, fib levels 38% ,50% or 61%, major round numbers and trendline.
Basic Signal: To identify this setup, the prev sup/res element must be on this one and at the same time fib levels must line to 38%, 50% or 61% Fib level. Once those 2 conditions are met, you can take the trade.
Strong Signal: We require the trendline to line up with the prev sup/res line and also lines up with a major psych number. Although I am very serious about incorporating round numbers on each trade, with this one I look at round numbers as the 3rd element because the prev res/sup line is the real sweet spot.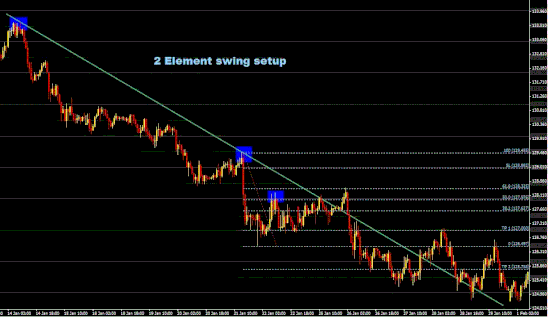 Setup 2.
'2 Element Swing Setup'
To recognise this setup, the price retrace must line up with a major round # and at the same time, line up with fib levels 50%-61%. The reason I look at 50-61% is because they are the most powerful levels of fibs. So it only consists of 2 elements and that is why I called it 2 Element swing setup. To have a stronger signal the 3rd element would be the trendline lining up.
This setup can have an exception. Some slow moving pairs like eur/gbp, eur/chf, aud/cad etc etc, the major round # will not be there because it will have a smaller range. However, as long as the main trend (4hr) is going the same direction then I will still take the trade if the price retraces to the 50-61% and again if the trendline lines up as well. Lately I have begun looking for set ups at 25 and 75 psychological levels on the slower moving pairs as these seem to line up well, but again, I will take the trade if it retraces to the 50-61%
as long as I am going with the trend.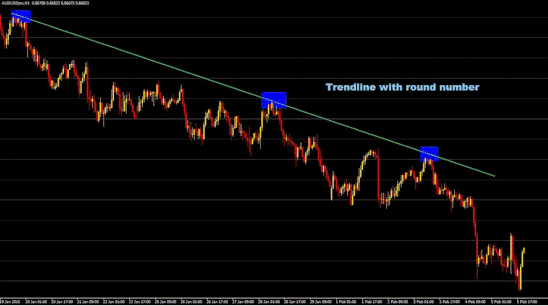 Setup 3.
'Trenline with Round Numbers'
This simple setup is called 'trendline with round #' because that is as simple as I can make it. Fib levels are not involved with this one, trendline and a major round # will give you the entry point. I wish I could complicate it, but I can not.
 Now with all the set ups, round #'s can be off up to 10 pips and that depends on the pairs. Slower moving pairs could be off up to 5 pips and faster moving pairs, the round # can be off up to 10 pips. You need to be aware of this and trade with that in mind.
 Keep in mind with this trade and all trades, the more elements that line up, the more reliable the trade.
As you can see in the picture below, price is in a nice down trend market for the aud/usd pair. Price already tested that down trend level 2 times and the 3rd time it tested it, we entered in.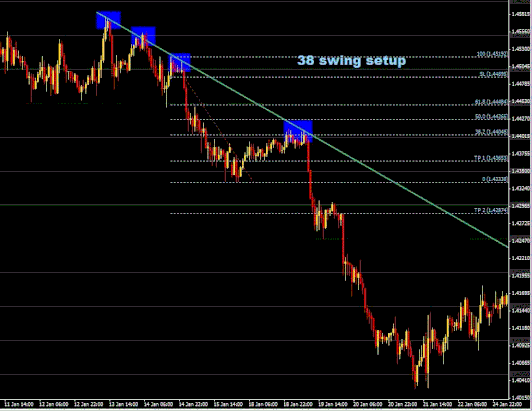 Setup 4.
'38 Swing'
For the 38 Swing setup, you need to have 3 elements lined up. First we need to have an established trendline. Once price makes the lower low and begins retracing back up, (for a falling trend) we draw our fib from point to point. If our 38% fib line falls on a major psych # and price hits out trend line, we are ready to trade. We set our orders 5-10pips below the 0% fib line and enter once price breaches this area.
We really need price to ride the line or bounce from the line for this setup, not close candles past the fib and become undecided. We want smooth movements and only take the best set ups Stop loss is still at the previously mentioned fib position which makes our stop considerably larger than other trades, however, we will target more here to compensate. You can use fib extensions or 'target 2' as your target, just make sure you target better than 1:1Risk reward.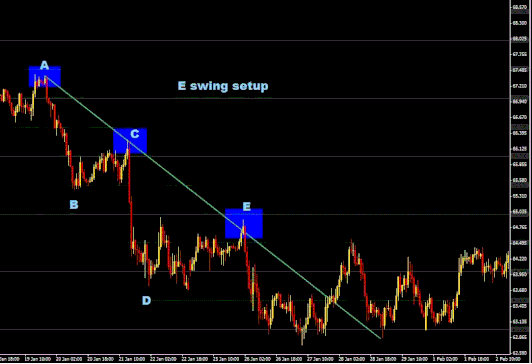 Setup 5.
'E Swing' Setup
For the final setup we want price to make obvious ABCD swings providing very clear and almost unison sized swings and retraces. If this occurs, we can take the trade at position E once price hits out trend line.
This setup, although can be taken with the two elements, will be become a stronger setup if more elements line up.
Share your opinion, can help everyone to understand the Trendline Price action forex system.

Latitude Lines or Psycological level indicator
Latitude Lines or Psycological level indicator: setting:
1) 00, 25, 50, 100 = 25 width;
2)50, 100= 50 width
Latitude Lines or Psychological level.ra
compressed file archive
2.0 KB
Trendline Forex Strategies