59# OZ FX Trading System
Submit by Joy 22 (Written OZFX) 06/12/2011
Setup:
Open up a daily or 4H chart, curency pairs any.

Apply Bill Willam's Accelerator Oscillator (AC).

Apply Stochastic with setting 5,3,3 on top of AC. Use the template if don't know how to.
Short Entry: RED AC below 0 and Stot below 0
Long Entry: Green AC above 0 and Stot above 0
Exit: OppsiteBuy/Sell signal or as per Money Management.
Filter: Apply 200SMA. If price is below 200SMA then only take short trades. If Price is above 200SMA then only take long trades.
Money Management:
Trade with 5 Lots with Stop Loss 100 pips away

Take Profit on 1st Lot at 50 pips. Move Stop Loss to Break Even (BE).

Take Profit on 2nd Lot at 100 pips.

Take Profit on 3rd Lot at 150 pips.

Take Profit on 4th Lot at 200 pips.

Let the 5th Lot run until you see an opposite entry signal.
The Risk/Reward ratio turns out to be 1:1 or better depending on your 5th Lot. Since we trade on daily and would only take  trades with high probability of success, 1:1 would work just fine.
In the pictures below OZ FX Trading System in action.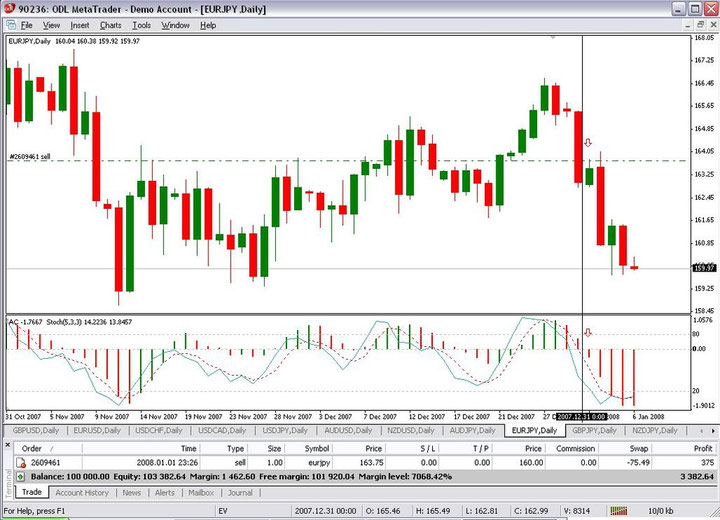 OZFX Trading
OzFx Squeeze-More + Sample Trades
Trading System
OzFx Squeeze-More + Sample Trades.pdf
Adobe Acrobat Document
470.5 KB
ozfx-squeezemore
trading indicator
ozfx-squeezemore.zip
Compressed Archive in ZIP Format
1.1 KB