93# Force Index Trading System
The Force Index momentum Forex System
Submit by Janus Trader 07/05/2013
The Force Index focuses on three key pieces of market information -- price change, extent of price change and trading volume. The force of every move is defined by its direction, distance, and volume. If prices close higher, the force is positive, if lower, then negative. The greater the change in prices, the greater the force. The greater the volume, the greater the force. That is the simple but powerful concept behind Force Index.Like other oscillators, Force Index works best if it is smoothed with a moving average (MA). Force Index smoothed with a short MA , e.g. two days, helps pinpoint entry and exit points. Force Index smoothed with a longer MA, e.g. 13 days, shows major change in the force of bulls and bears.
Building the Force IndexYou can build your own Force Index database for any security or index in a spreadsheet. Here is the formula:
Force Index = Volume Today * (Close Today - Close Yesterday)
Forex Indicators:
Forece Index (period 13) with moving average smoothed (3 period);
Stochastic (14,3,3,);
21 EMA exponential moving averages;
3 MA Smoothed.
Buy
3 Moving Average  smoothed>21EMA;
Force Index>Ma smoothed;
Sell
3MA Smoothed<21EMA;
Force Index<Ma smoothed;
Stochastic indicator<40.
Exit Position:
When 3 Moving average smoothed crosses in opposite direction.
Profit Target ratio 1.5 or
30 min TF=20-25 pips Profit Target,
60 min TF=25-30 pips Profit Target,
240 min TF= 40-50 pips Profit Target,
Daily TF= 60-90 pips Profit Target, this the best option for exit position.
Stop loss the previous swing.
In the pictures below Force Index Trading System in action.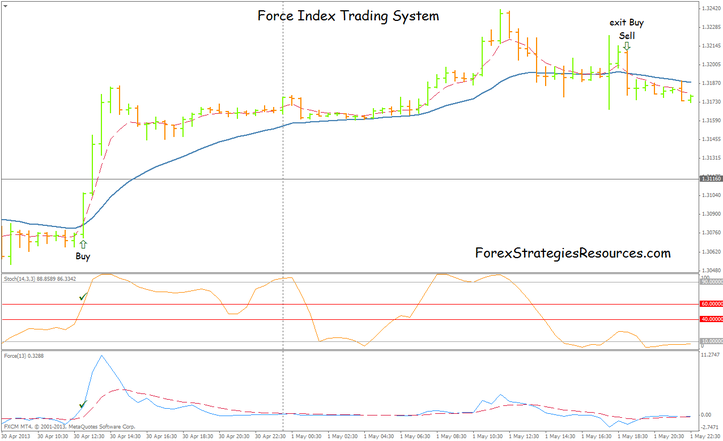 Force Index Trading