4# Stochastic and EMA Multitimeframe Trading System
Submit by Forexstrategiesresources
Is a trading system that is based on the standard Stochastic Oscillator indicator in combination with the standard Exponential Moving Averages. You can use the moving averages as the general long-term trend indicator, while the stochastic will show you the short-term overbought/oversold states.
This trading strategy is made up of 2 different timeframe's, Use D1 timeframe for the long-term trend detection with the Exponential Moving Averages and H1 timeframe for the short-term signal receiving with the Stochastic Oscillator.
Add 3 Exponential Moving Averages to the D1 chart, set periods to 25, 50 and 100.
Add a Stochastic Oscillator indicator to the H1 chart, set its %K period to 14, %D period to 3 and slowing to 3, use Close/Close price field, set overbought level to 90% and oversold level to 10%.
Long Entry Position:
Enter Long position when the long-term trend is bullish (the D1 chart shows price above EMA25, EMA25above EMA50 and EMA50 above EMA100) and the stochastic crosses the oversold level from below on H1 chart.
Exit Orders
a) Our initial stop when long will be 4 pips below the two-bar low; our initial stop when short will be 4 pips above the two-bar high.
b) When long, we'll trail a stop at the most recent swing low (strength one); when short, we'll trail a stop at the most recent swing high (strength one).
c) We'll also enable a money-management stop, a breakeven stop, and a $ risk trailing stop.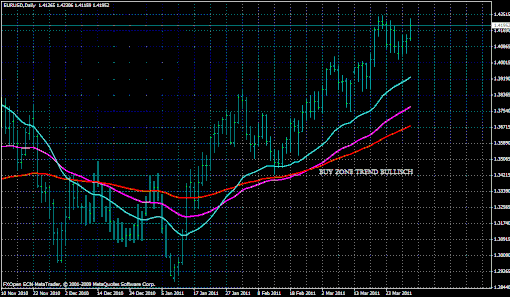 Daily chart : On March , Euro/Dollar Trend Bullish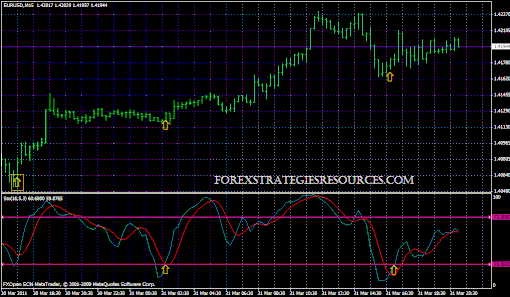 15 Min chart : On March 31, Euro/Dollar Long Entries
Stochastic with Ema
Stochastic Forex Strategies
EMA Forex Strategies