841# Forex Flame Sniper Strategy
Trend Momentum Strategy
Digital Momentum Filter
Submit by Dimitri author EWM Forex
Forex Flame Sniper Strategy is a trend momentum strategy which consists of a direction arrow filtered by a digital filter based on MACD, Sniper and Moving Average. This is a Strategy that works.
The Settings It is strongly recommended that you do NOT change the settings at all. The default ones that are in the template are all you need to use. If you want to change the appearance, you can change the color of the candlesticks and you can also change the arrow type. If you scroll down to "ArrowType", change the number to 1, 2 or 3. 0 is the best looking arrow and easier to spot. You can turn off the alert by setting the "alert" to false but do NOT do this. The Alerts are the key to this trading system. There are 2 types of alerts. The "alerts" is the main one. The "AlertON", is a alert based on the bearish or bullish trend. It will constantly alert you of the current trend if you enable this but this is not necessary since the trend direction can be viewed simply by looking at this.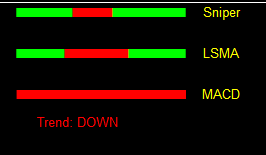 Important Points: 1. Arrows do NOT mean entries. Just because you see an arrow, does not mean you enter a trade. You must only enter a trade when the Alert tells you to. The system calculates a series of other conditions as well before alerting you. 2. Do not over trade. Once you have reached your daily limit for the day, wait for the next day. (Just a suggestion)
The Alerts As mentioned on the website, there are 2 types of Alerts. These are A STRONG SIGNAL and A VERY STRONG SIGNAL. A Strong signal basically means the system has found a signal based 3. Load template 3on 65% of the conditions which were met. A Very Strong signal means the system has found a signal based on 100% of the conditions that were met. In actuality both signals are profitable but if you want the best one, obviously you should only trade the VERY STRONG SIGNALS. If you are an aggressive trader, you can easily trade both.
Recommended Take Profits and Stop-Loss. All systems should have a take profit and a stop-loss. Although this is clearly up to your liking, here are some recommended ones you can use. 
Additional Facts
This system was made for anyone who does not want to analyze the markets or (and)wants a quick solid profitable system. Newbies, and Advanced traders can benefit from this system. It is a well rounded one and at the same time does not clutter your charts.
This trading system works great at time frame 4H and daily.
... with Hama Scalping System · 5# Binary Options One Touch Strategy Bollinger Bands and Zig Zag · 6#Binare Optionen Strategie Trend Momentum High/Low ...
ichimoku nfp macd renko price action no repaint adx cci 2017 divergence 4 hours strategies super trend volume trend tma bollinger bands gann qqe momentum ...