852# Spaghetti FX Full Strategy
Trend Strategy
SpaghettiFX as Filter
Submit by Dimitri
Spaghetti FX Full Strategy is a trend following trading system which can also be used as a trend, trend arrow filter, trend momentum and breakout. In this review I show the basic Spaghetti FX templates and the templates as a filter of the 1-2-3 pattern and of the classic AscTrend used by the trend following arrow used in many paid systems (but which is free). First I introduce the two classic Spaghetti FX templates then I show you how I use Spaghetti FX as a filter.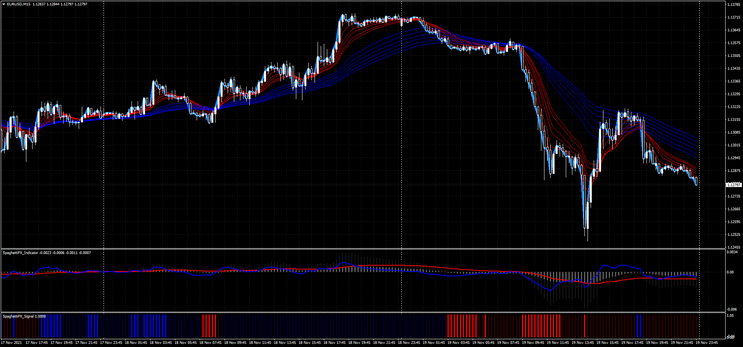 Setup Strategy
Time Frame 15 minuti or higher.
Currency pairs any.
Platform metatrader 4.
Metatrader 4 indicators
Simple moving average 1 period.
Moving averages fast (periods 3-15).
Moving averages slow (periods 30-60).
Spaghetti FX indicator
Spaghetti FX Signal
AscTrend risk 6.
Filter.
1-2-3 pattern.
Trading rules Spaghetti FX Full Strategy 
Buy
Price above moving averages.
Spaghetti indicator>0.
Spaghetti trend blue bar.
Sell
Price below moving averages.
Spaghetti indicator<0.
Spaghetti trend red bar.
These conditions also apply to filter AscTrend, and the 1-2-3 pattern.
Exit position
Place initial stop loss above/below the previous swing high/low.
Exit at a predetermined profit target or when the trend has opposite conditions.
For the template with 1-2-3 patterns the output is at the opposite signal or with a 1: 1.1 stop loss ratio.
Examples
Spaghetti FX STM template.
Price above/below the moving averages.
Below the chart two indicators at least two indicators I must agree on uptrend/ondowntrend.
Exit of position is like the previous ones.
Examples of trades.