457# Virtual Trade Monitor indicator 2.1
Forex tool: Virtual Trade Monitor 2.1
Forex tool for trading virtual dashboard
Submit by Samir B. (Written by Samir) 22/06/2013
Features
Forex tool: Virtual Trade Monitor 2.1
1. Auto-Detection of supported pairs by your broker
2. Support for odd brokers symbols (like "USDGBP" etc.)
3. Visual jumping pair display (really cool)
4. Jump pair info (which par, from slot/to slot, time passed since jump)
5. Calc takes now spreads into account
6. Sums of Buy/Sell pairs
Installation:
1. Copy the indicator (Virtual Trade Monitor v2.1.ex4) into the folder experts/indicators
2. add the Virtual Trade Monitor to a chart (any timeframe).
3. make sure you have activated Chart Shift
Recommended configuration virtulal trade monitor 2.1
1. AutoDetectPairs (true/false):Set true;
2 ShowJumps (true/false):Set True
3 DisplayJumpInfo (true/false) Set True
4 ShowJumpAlert (true/false) Set flase
5. ShowBaskedBackground (true/false) set true
See PDF
Virtual Trade monitor 2.1 indicator forex tool in action Buy/Sell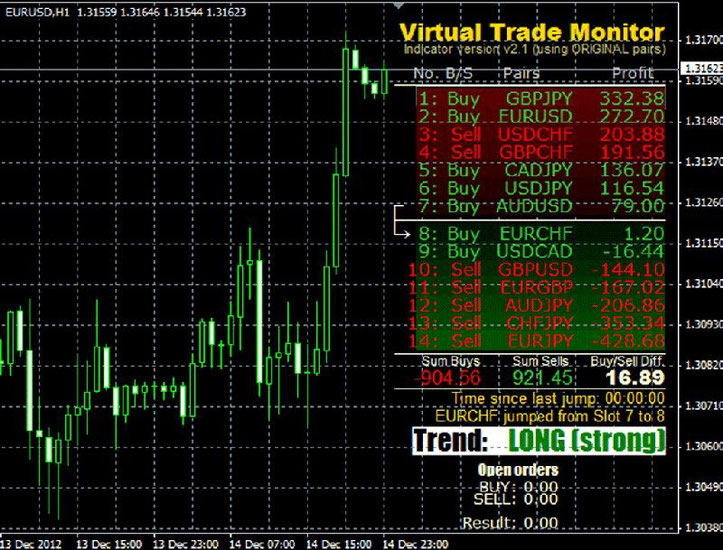 Share your opinion, can help everyone to understand the forex strategy.

Virtual Trade Monitor.2.1 indicator
Virtual Trade Monitor.2.1 indicator Forex Tool
Forex trading system download
virtual-trade-monitor-v2.1.rar
compressed file archive
23.1 KB
Virtual Trade monitor 2.1 indicator forex tool by Samir
Virtual Trade Monitor.2.1 indicator Forex Tool
Virtual Trade Monitor by Samir.pdf
Adobe Acrobat Document
179.1 KB