465# LMT Forex Formula Trading System
LMT Forex Formula with Candlestick patterns
Submit by Buddy, Written by Dean Saunders 29/07/2013
Time Frames:
daily or 4 hour charts.
Currency pairs:any
To identify entry signals we are going to use the "Trigger" indicator at the
bottom of your chart which looks like the picture below.
As you can see from the above picture the L.M.T Trigger is constantly oscillating
like a wave and changing colour depending on its direction. The indicator gives
possible signals as it changes from red to green, but there are several things that
must be checked before it can even be considered a trade setup.
1. The entry signal must be in the direction of the current trend as indicated by
the trend direction indicator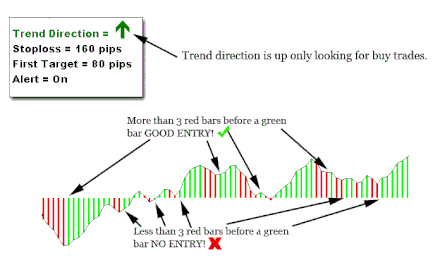 There must be at least three red/green bars on the L.M.T Trigger indicator
before the signal is given. For example if the trend is down, there must be three
or more green bars before a red bar forms to signal a sell entry. If the trend is
up, there must be three or more red bars before a green bar forms to signal a
buy entry. If there are only two bars or less before the entry bar, then the signal
is invalid. Below is an example of entries with an up trend.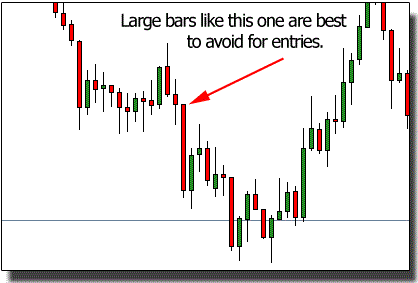 3. On a chart each candle represents a period of price action, for example on a 4
hour chart each candle represents 4 hours of price action. Every 4 hours one
candle closes and a new candle opens. Before a signal can be generated the
current candle must have completed and closed for the signal to be valid. Often
it may look like a good signal is forming but price can reverse before the candle
is closed so never jump in early.
Make sure the candle which gave the signal is not a huge bullish/ bearish
candle. As a guide, if the candle is more than twice the size of the current
stop value avoid the trade. These large candles will often retrace a long way
before going in the predicted direction and there is a high chance that your
stop loss may be hit before the trade goes into profit. This step is essential, if
you see these huge bars on the entry signal don't take the trade. (See
example )
LMT Forex Formula Trades Examples
LMT Forex Formula with Candlestick patterns
There are hundreds of
different candle formations but I only take note of the following 3 formations.

Engulfing pattern
An engulfing pattern is a strong change in momentum in the market
often seen off of strong support/resistance levels. For a buy
confirmation the first candle would be red followed by a green candle
that completely engulfs the previous one. For a sell confirmation, the
first candle would be green followed by a red candle that completely engulfs it.
This formation indicates good volume and momentum in the market

Pin bar formation
The pin bar formation is one of my favorites, it shows huge emotion of the
market indicating a sign of a reversal. In this case the bulls pushed the
market high but failed to hold it so price returned to around the open
leaving a pin bar formation. The pin always points away from where price may
be heading, the opposite is true for a bullish pin bar formation. You will often
see these formations after a strong move.

The Doji pattern
The Doji pattern is generally a small candle indicating indecision with not much
movement, the open and close should be at the exact same price but
it is acceptable within few pips.
I like to see 2 or more Doji's next to each other after a strong move,
which is a great indication that the market could be changing direction.
Initial Stop Loss on the previous swing.
Management position to see the previous examples.
Share your opinion, can help everyone to understand the forex strategy.
LMT Forex Formula with Candlestick Patterns: Indicators and Template
LMT Formula Forex:Indicators and Template

LMT Formula Forex
LMT Formula Forex: Indicators and template.
trading system download.
LMT Forex formula.rar
compressed file archive
13.0 KB

LMT Formula Forex Template
LMT Formula Forex formula advanced temp
compressed file archive
18.3 KB
Doji pattern
Pin Bar Pattern
Engulfing pattern

Engulfing pattern
Engulfing pattern with alert
Engulfing Bar Alert.rar
compressed file archive
689 Bytes