553# Trend Session System
Bandit flash system
Submit by Mike Trader 21/03/2014
Trend Session system or (Bandit Flash) is a trend following system for metatrader 4.
Time Frame 30 min or 60 min.
Currency pair: EUR/USD, GBP/USD. AUD/USD, USD/CHF.
Alert Buy Sell indicator,
closing indicator,
days indicator,
heiken ashi indicator,
Hypersignal,
mini,
long trend indicator,
panah,
power,
price,
ranger indicator,
Time,
Trend Session,
Snake indcator,
T3 clean.
Rules for Trend Session System
Open position:
Coloured candles with the same colour of the trend session indicator in the subwindow.
Two cords (snake indicator and t3 clean open they are indicator arrows white.
Exit position
Indicator appears closing (white crossing or use target profit and stop loss.
Profit target 30-50 pips.
Stop loss 20-30 pips.
In the picture Trend Session system or (Bandit Flash).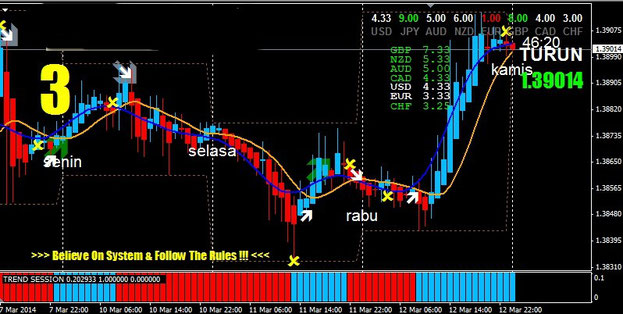 Bandit flash indicator for trading