576# Xard777 MACD with Slope Trading System
Xard777 Intraday System
Submit by Lulen (Written by Xard777) 26/06/2014

Xard777 MACD with Slope Trading System is an trend following intraday strategy.
Idea beig to trade off the high/low line in the opposite direction of the orange filter line. Also make sure you are on the right side of the MACD.
Time Frame 30 min or H1.
Currency pairs: majors and metals and Oil.
Rules for Xard777 MACD whit Slope
Buy

- MACD line above zero (in the buy zone - light blue color) and changes color to blue -bottom windows 
- Price line turned from pink to white & above Price line channel - orange and lime i.e. lime - opposite to orange (while channel trend (thick middle line) change to light blue)
- Trend Belt show up trend ( Light blue)
- additional confirmation by candle color to be pale blue.
Sell
price going down;
trend is down;
price below orange line;
MACD below zero line and crosses down. (Sell Zone Magenta color).

Exit Rule 
Make profit at the level supprt and resistance lines;
When MACD change direction;
Profit Target predetermined.
Use the trailing Stop.
Initial stop loss 4 pips above or below Orange line.
Manage position with the expert Advisor in attach.
In the picture the Xard777 system in action.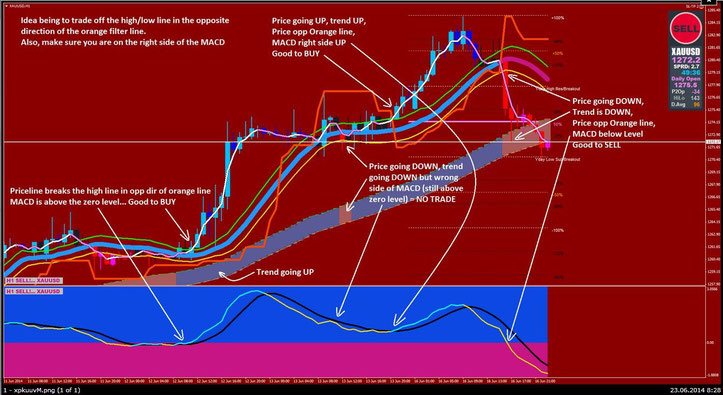 Xard trading