480# Stix Indicator
Trading with Overbought and Oversold Zone
Submit by joy22  11/08/2013

This version of Stix indicator has been adapted for the forex by joy22.
Stix indicator no repaint.
STIX indicator is a short-term trading oscillator that was published in The Polymetric Report. It compares the amount of volume flowing into advancing and declining stocks.
Interpretation
According to The Polymetric Report:
STIX indicator usually ranges between +30 and +70.
If STIX indicator gets as low as 30, the market is almost always a buy, except in a raging bear market.
The market is fairly overbought if STIX rises to 70; and except in a new bull market, it's wise to sell if STIX should go over 70.
Traders and investors should modify these rough rules to suit their own objectives.
In normal markets, STIX rarely gets as high as 70 or as low as 30, so rigid use of these rules of thumb would keep you inactive most of the time. For active accounts, the rules might be made much less stringent.
Table :Overbought and Oversold
Extremely Overbought greater than 70
Fairly Overbought greater than 60
Fairly Oversold less than 30
Extremely Oversold less than 40
Calculation
STIX is based on a variation of the Advance/Decline Ratio:
The STIX is a 21-period (i.e., 9%) exponential moving average of the above A/D Ratio.
I have proposed two styles of trading with Stix indicator:
Overbought and Oversold; 30-40=Sell 60-30=Buy

Extreme Overbought and Oversold; =<70 Sell =>30Buy
In the pictures below Stix indicator in action.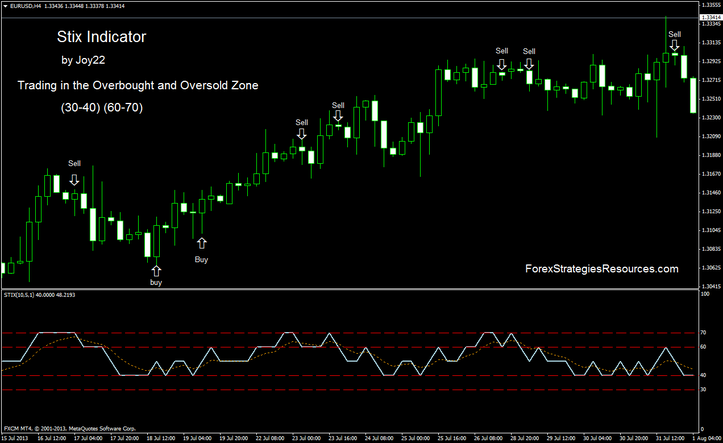 Reversal Treend-trading

Stix Indicator and template
Stix Indicator and template.
Forex indicator download
Stix (indicator and Template).rar
compressed file archive
1.7 KB