665# Holy Trend system
Double I-Regression
Submit By Rub 11/12/2015 (Translate from the Russian)
The strategy is simple and profitable. Even people who start to trade on it for the first time to achieve excellent results.
Brings 70-80% winning trades.
Calculated on the expiry 30min
Currency pairs: EURUSD, GBPUSD, USDJPY, USDCAD, ERGBP, AUDUSD, AUDNZD, AUDJPY
Time trade MSK: from 9 to 13 (be careful in the first start of the European session, 30min), and then the period from 16 to 21. The news does not trades.
You can use this system also for swing trading and Binary Options High/Low.
In principle, there are days when there is good movement and day. So you can look at the initial stage entry point at any time.
The analysis takes place on the timeframe M5 (entrance by 6 Candles)
On the other expiration strategy has not been tested.
General rules for trading binary options you read in the introduction.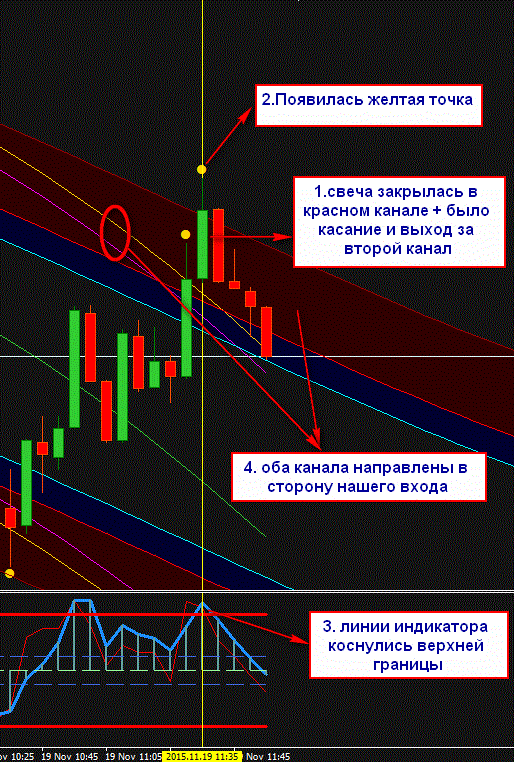 1. Wait for the candle closed dark red channel. Wait for closing the candle, entering only at the closing.
2. At the point of the candle should appear. Points on history is not to look as they are, as price movements are drawn on next, if not a reversal occurred. I use this signal as a warning as soon can arise the conditions for entry.
3. Perfect Active direction of the two channels coincide with the direction of our potential entry. Also good work out if the inputs of the channels in parallel direction, but should not be too close, one to another the border of at least six candles. In stories do not watch TV, but in real time, as they change readings.
4. Basement indicator must touch the red level
Very good work inputs on the trend, if the entry point is the third or fourth touch trend line.
Terms: closing the candle in the channel, cellar indicator must also touch the boundaries must be observed.
On the screen removed one channel to show how the trend line.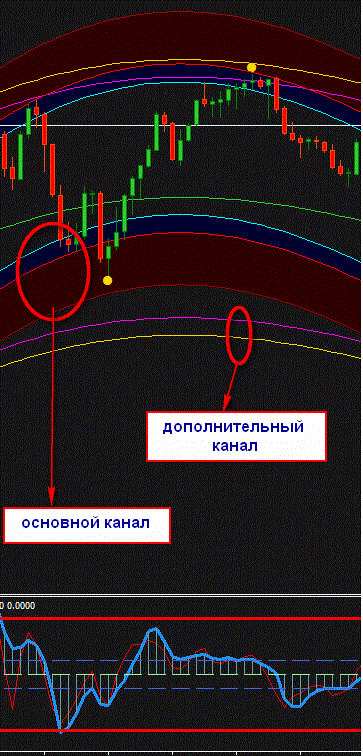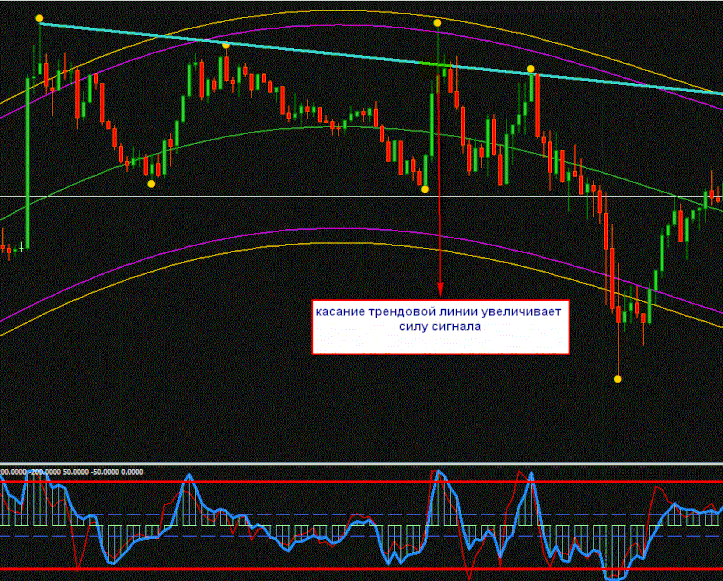 Another very good configuration, which can be profitable on its own. I sometimes work purely on it. In conjunction with this strategy also works well. In this case, we can ignore the direction of the channel.
Remember this picture, look for such movements on the chart. Over time, you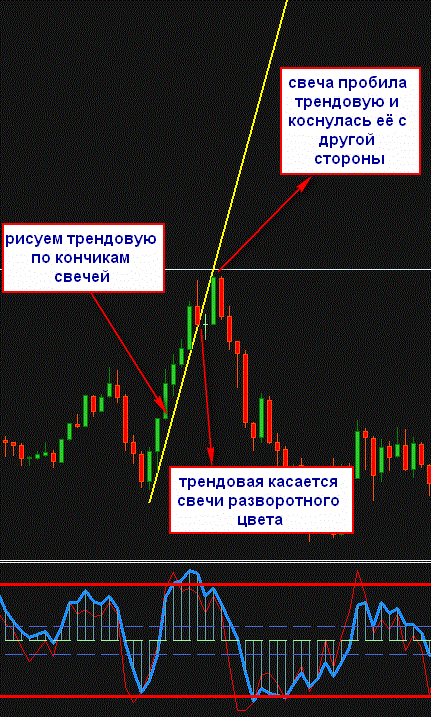 begin to find them with ease. This is very good signal for a reversal.
Especially good look at the levels of such points, spreads a couple of hours to look better on the high or low of the current day. Work such configurations on any timeframe. You can take the expiration 2.3 -6 candles.