714# Profit Indicator
Trend or filter: OSMA modified
Submit by Carl 01/11/2016
Profit Indicator is an algorithm based on the OSMA, there are two ways to use this indficator: buy-sell trend following
or for to filter trend-momentum arrow.
Time frame 5 min or higher.
Financial markets:any.
Profit Indicator trend following buy-sell
Buy
Profit indicator green line above zero
Sell
Profit indicator red line below zero
Exit position at the opposite signal or with predetermined profit target with ratio variable (range 1.3 – 2) stop loss. Place initial stop loss on the previous high/low swing.
In the pictures there three examples
Profit indicator as filter
Buy
Profit indicator line above moving average line= Buy area
Sell
Profit indicator line below moving average line= Sell area
I have tested profit indicator as filter with two indicators:
Mosca arrow and renko Maker an repaint indicator that can be profitable with experience. Test 1- 2 months on demo accounts to understand how this strategy should be managed.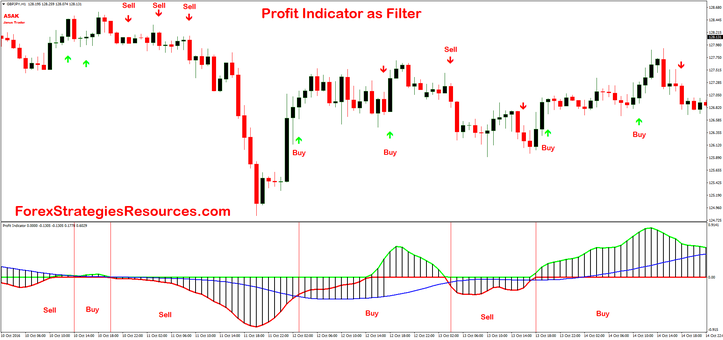 This template above  based on Profit Indicator can help you with binary option high/low.
Expiry time 3-4 candles.
Share your opinion, can help everyone to understand the forex strategy