153# Dynamic Channel, Contrarian Strategy.
Price Dynamic channel indicator
Submit by JanusTrader
Time frame 15 min or higher, best TF 4H
Currency Pairs: all.
Indicators:
Stochastic (5,3,3,)
Price Dynamic Channel indicator

The Price dinamic Channel indicator is based on the Bollinger
Bands on three different shifts, the ATR and the Keltner channels. And the rules are:
1. The price tends to stay between these bands.
2. If the prices are outside all three bands, there is a strong trend, but it will quickly revert to the bands.
Look for the prices to stop at the orange band or the red one. If it stops at the upper side of the bands, look for the stochastic to be above 80, wait until it crosses down, and then go short with two trades. Put the Stop Loss one pip above the last high, the first Take Profit at the
same number of pips as the Stop Loss, and the second Take Profit at twice the Stop Loss. For example, if the Stop Loss is 50 pips, put the first profit target at 50 pips, and the second target at 100 pips. When you get to the first target,
move the Stop Loss of the second trade to break even.
Here's an example:
In the pictures Dynamic Channel, Contrarian Strategy forex system in action.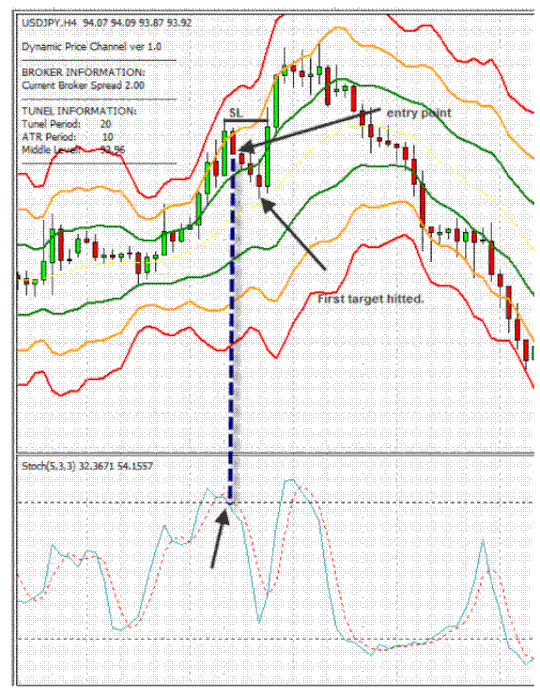 In this example, there was a stop on the orange band, then the stochastic crossed and we take the first profit quickly while the second trade was closed at zero as we moved the SL to break even after we got the first TP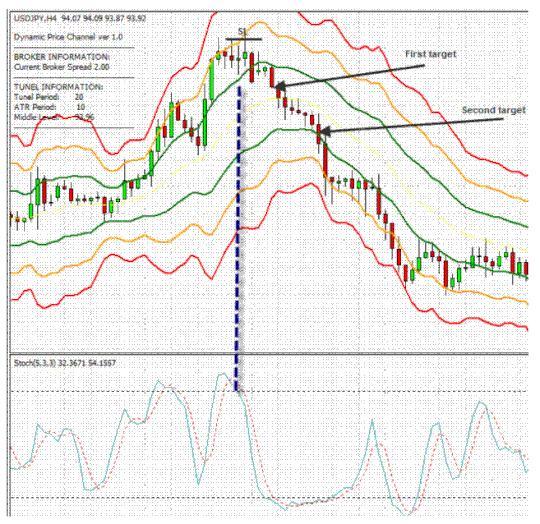 In this example, you can see that both targets are achieved quickly. The entry was at the bar when the stochastic crossed.

Dinamic Price Channel
Forex Trading System
Dynamic_Price_Channel.rar
compressed file archive
4.4 KB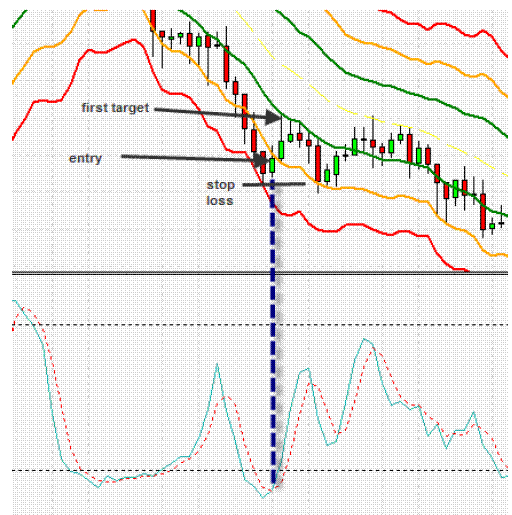 In this example we entered where the stochastic crossed, and took the profit after only one bar! The second target wasn't reached, and we closed the second trade at zero.
Share your opinion, can help everyone to understand the forex strategy.