249# Trend Dashboard Trading System
Submit by Joker
How to use it
This indicator is a very useful tool to determine the current trend in all different timeframes.
As you can see from the screenshot, there are four different Trend Signals named Trend 1, Trend 2, Trend 3 and Trend 4. Each trend utilizes a different method to determine the current trend of the current currency pair in each timeframe.
You can tell how the trend is going to be in a certain time frame very easily. For example,
in 1-Minute timeframe, 4 trend indicators all display an UP signal. So, you can tell that the
trend is going very strongly and we can open a Long position. If in a certain timeframe, there are at least 3 UP signal then we can open a LONG position. If there are at least 3 DOWN
signal, then we can open a SHORT position. In other situations, do not enter a trade.
T101 Virtual Trades
Submit by willliam 12/02/2013
This dashboard offers signals for trading for 14 currency pairs on the Time Frame Daily and weekly:
GBP/CHF, EYR/GBP, USD/JPY, CHF/JPY, NZD/JPY, EUR/CHF, EUR/USD, AUD/USD, USD/CHF, AUD/JPY, GBP/USD, EUR/JPY, GBP/JPY.
In the pictureTrend Dashboard forex system in action.

Trend Dashboard
Forex Trading System
Trend Dash Board 2.rar
compressed file archive
23.7 KB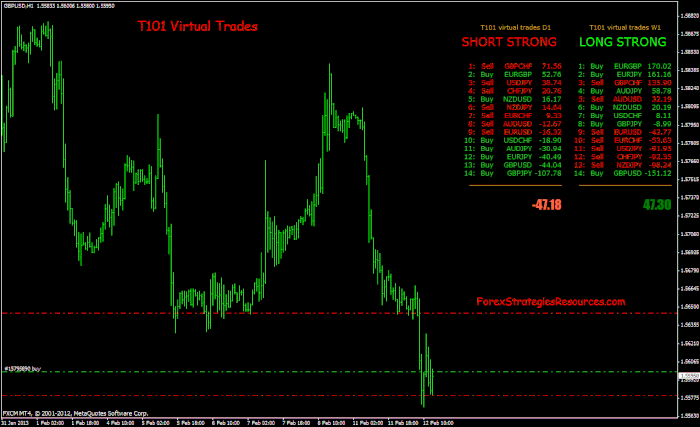 Share your opinion, can help everyone to understand the forex strategy.

T101_virtual_v61
Metatrader: T101_virtual_v61, Trend Dashboard.
T101_virtual_v61.rar
compressed file archive
15.2 KB