246# Ultimate Trading Machine
Moneny Management on screen is in the upper right hand corners.
It tells you the Max lot to trade which is very important in money management.
Rules to trade the system is as followed:
1. Allow the price to reach the maximum of channel (upper or lower). The channels are the thick blues going up or downward.
2. Place trade with recommended Max lot to trade size as soon as the price reached this level.
3. Once price reached target, pay close attention to TrendStrength indicator and FerruFX
Indicator. TrendStrength indicator must be at least 80% or better.
FerruFX Indicator must be all Green(Uptrend) or all red(downtrend) based on TimeFrame
you are trading. If it does not agree all the way across, just wait.
4. Set Stop loss and TP at your own risk level.
Additional Notes for Times: 1 to 2 am Central Standard Time, trend form, 8.00 trend continue in current direction and 2.00 pm down trend formed again.............80% sure
In the pictures Ultimate Trading Machine forex system in action.
Trading Machine Forex Trading System: Template and Indicators MT4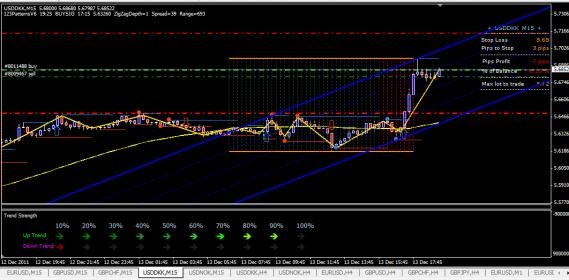 CCC AXN Metatrader Indicator
Share your opinion, can help everyone to understand the forex strategy.