345# Jutawan Forex Strategy
Submit by Ketang 28/05/2012 (written by jutawan)
PARABOLIC SAR 1
Berfungsi sebagai penanda sama ada market sedang uptrend ataupun downtrend
Cara baca :- apabila PSAR berada diatas canddle stick bermaksud downtrend
:- apabila PSAR berada dibawah canddle stick bermaksud uptrend
BOLINGER BAND 2
Berfungsi sebagai penanda sama ada market sedang uptrend ataupun downtrend
Cara baca :- apabila BB (MERAH)berada diatas canddle stick bermaksud downtrend
:- apabila BB (HIJAU) berada dibawah canddle stick bermaksud uptrend
STOP LOSS 3
Memberitahu harga STOP LOSS yang dicadangkan untuk mengurangkan kerugian jika market berubah arah
TAKE PROFIT 4
Memberitahu TAKE PROFIT yang patut diambil berdasarkan pegerakan pasaran pada masa itu
MACD 5
Berfungsi sebagai penanda sama ada market sedang uptrend ataupun downtrend
Cara baca :- apabila graph semakin menaik ini bermakna harga semakin meningkat dan
penanda uptrend
:- apabila graph semakin kebawah ini bermakna harga semakin menurun dan
penanda downtrend
STOCHASTIC 6
Berfungsi sebagai penanda sama ada market sedang uptrend ataupun downtrend
Cara baca :- apabila STOCHASTIC bewarna MERAH mencecah penanda aras 80 harga akan menurun dan bermulanya downtrend

(anda dinasihatkan agar tidak membuat BUY POSITION pada masa ini)
:- apabila STOCHASTIC bewarna BIRU mencecah penanda aras 20 harga akan
meningkat dan bermulanya uptrend
(anda dinasihatkan agar tidak membuat SELL POSITION pada masa ini
RSI 7
Berfungsi sebagai penanda sama ada market sedang uptrend ataupun downtrend
Cara baca :- apabila RSI berada di atas 70 ini menandakan pasaran terlebih belian dan boleh mengakibatkan harga jatuh pada bila-bila masa
(anda dinasihatkan agar tidak membuat BUY POSITION pada masa ini)
:- apabila RSI berada di bawah 30 ini menandakan pasaran terlebih jualan dan
boleh mengakibatkan harga naik pada bila-bila masa
(anda dinasihatkan agar tidak membuat SELL POSITION pada masa ini)
BEARS (RED) 8 & BULL (BLUE) 9


Berfungsi sebagai penanda sama ada market sedang uptrend ataupun downtrend
Cara baca :- apabila BEARS dan BULL berada diatas ini bermaksud buy dan sell
berlaku pada masa yang sama dan apabila BEARS berada di atas dan
BULL dibawah ini bermaksud SELL berlaku dahulu diikuti dengan BUY
( apabila BULL lebih tinggi dari BEARS ini bermaksud uptrend)
( apabila BEARS lebh tinggi dari BULL ini bermaksud downtrend)
RINGKASAN INDICATOR JUTAWAN FOREX
Diharap dengan penerangan satu persatu dari signal 1-9 telah membuat kan anda
Bertambah jelas dengan apa yang diterangkan
Kebiasaannya para trader hanya memeriksa 1,2 5,6,7,8 & 9
No 3 & 4 tidak dapat ditentukan dengan tepat kerana kebayakan trader hanya berdasarkan setakat apa yang mereka berani sahaja, melainkan mereka memang cekap dan sanggup Membuat garisan FIBONACI ataupun ANDREW PITCHFORK dan sebagainya. Adakah anda sanggup?
Jadi bagi memudahkan anda justeru itu didalam indicator jutawanforex semuanya telah Disediakan untuk kemudahan anda, sehingga diringkaskan agar anda tidak perlu lagi melihat pegerakan indicator yang sukar untuk anda faham sebelum ini.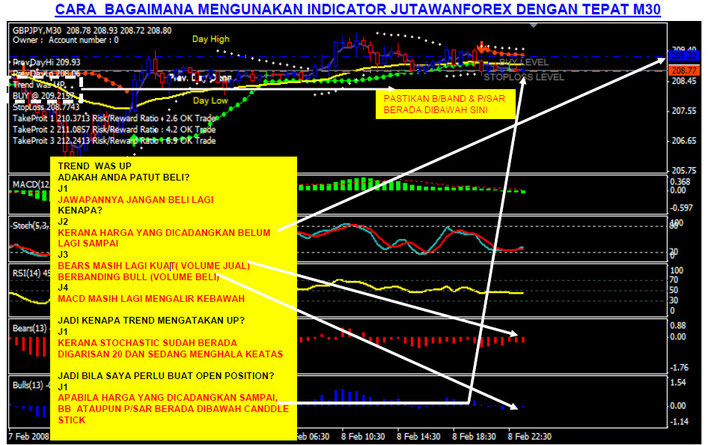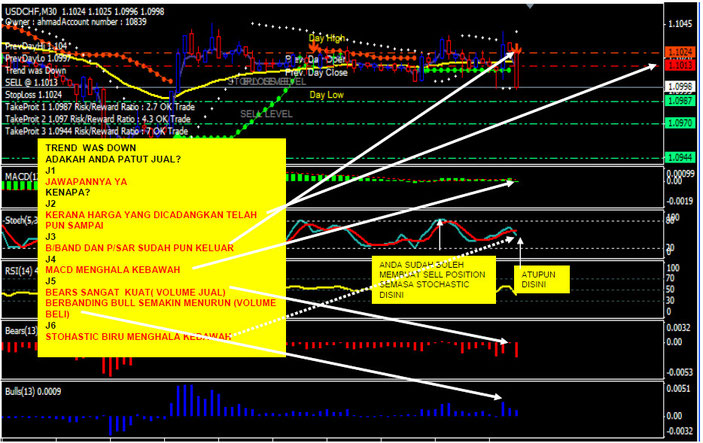 Share your opinion, can help everyone to understand the forex strategy.
Rahsia Jutawan Forex Didedahkan
Rahsia Jutawan Forex Didedahkan
Rahsia Jutawan Forex Didedahkan
Rahsia Jutawan Forex Didedahkan.pdf
Adobe Acrobat Document
1.4 MB