310# Dolly 13 Trading System
Submit by Maximo Trader
 This indicator has had a total rebuild and now works with the new extra digit platforms. Dolly now also has Murrey Math 3 MA displays and Bands plus trading signals and many more features built into the code. Most important is the user needs to check the Allow DLL imports tab and put aPassword into the Dolly inputs before it will work. Dolly Password = FREE_at_tsd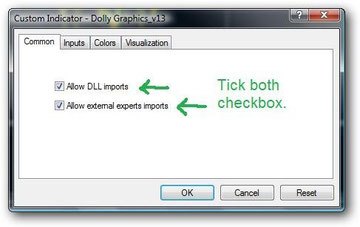 Dolly V.13
Dolly Graphics v18
Dolly Graphics v18 is last version of the popular visual trading system. Dolly Graphics 18 run on metatrader  MT4 950 and above build platforms. the author of this strategy has written some functions.
The main functions:
Auto, Alerts, Analysis Time, HiLo, Fib Pivots, Murrey Math,
MA hilo, Ma Trend, Bands and Guppy.
Potential reversal correction.
All the built in Dolly indicators and changing of the color schemes plus a sophisticated set of Alerts is now available for the Dolly Targets and the Entry Signals directly off the chart with a single click of the appropriate button.
The best time frame for trading is 15 min.
Financial Markets: Forex, Indices, Commodities.
Dolly Password = FREE_at_tsd  
Share your opinion, can help everyone to understand the forex strategy.

Dolly Graphics_v13
Forex Trading System
Dolly Graphics_v13.rar
compressed file archive
137.8 KB