385# Only Profit Trading System
1-2-3 Pattern with Inside bar
Submit by Ketang (Written by Semoga Sukes) 03/08/2012
Time Frame H4
Indikator yang digunakan:
1-2-3 Pattern MTF v3.1.mq4
IBFX - CPR.ex4
Contoh trading dibawah ini, memakai MT4 broker indonesia,
Rule...
indikator 1-2-3 Pattern MTF v3.1 periode 1440 jika berwarna hijau maka itu menandakan trend up, jika berwarna merah maka itu menandakan trend down, 
Indikator TRO_InsideBar_Plot2
Open buy hanya dilakukan jika price candle diatas garis hijau
Open sell hanya dilakukan jika price candle dibawah garis hijau
Open buy hanya dilakukan di atas garis hijau ( indikator TRO_InsideBar_Plot2 )
Pukul 02.17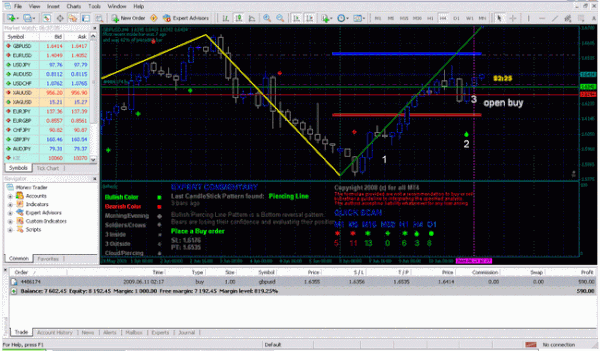 System ini cocok juga buat scalping. Acuannya selalu pada indikator (1-2-3 Pattern MTF v3.1 period 1440 ) only buy or only sell
Hari ini ada beberapa kali contoh scalping
indikator (1-2-3 Pattern MTF v3.1 period 240, dan 1440 ) menujukkan signal trend up, price candle TF H4 diatas indikator TRO_InsideBar_Plot2.mq4 maka entry di TF M30 only buy dan open buy hanya dilakukan +1pips di harga high candle sebelumnya take profit -1pips di harga lows candle sebelumnya, untuk open sell kebalikkan dari open buy.
NB jika scalping, untuk open buy posisi stoploss selalu anda naikan mengikuti lows price candle berikutnya, SL open sell kebalikan SL open buy.
contoh long term masih plus 40pips lebih
akhirnya take profit long term tersentuh hijau, hijau yes
In the picture Only Profit forex system in action.
NB : selalu sabar melihat, berlatih dan mempelajari pergerakan indikator di TF M30, dan H4 nanti anda akan mahir dengan sendirinya dan profit tentunya.
Contoh scalping dg broker luar 
Share your opinion, can help everyone to understand the forex strategy.