The BAT Range Trade
This is a range strategy and it saves pips very nicely in a ranging market. The example I will give will show trades 1 and 2 being taken up and completed as per a normal BAT trade. The pink arrows on the chart show this trade.
The aqua arrows show re entry into the trade as prices retraces yet again. This re entry can only take place if price stays within the boundary set by the 161.8 level.
Once price hits the 161.8 level then this type of trade can no longer be valid. A trend is either in place or else if price returns to the trade pick up areas of 61.8 and 38.2
then a probable change of trend is occurring and it will break the BAT line and result in losses.
In the pictures the Bat Method forex system in action.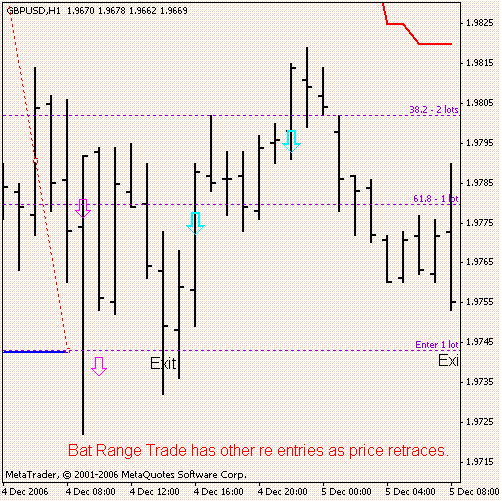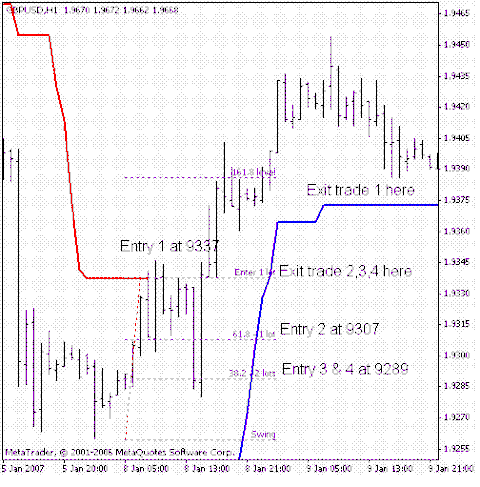 The 'Full Monty' Bat Trade.
This is the type of trade we want to get often.
Price breaks through the red BAT line and we enter trade 1 long at 9337 on 8/1 As soon as the trade is taken up we place our pending orders. Trade 2 enters at 9307 and trades 3 and 4 at 9289. The stop loss is initially placed at 9249. Exits for trades 2,3 and 4 are placed at the same time as the pending orders are placed and the targets are the original entry level which is 9337. Trade 1 is left to run until it breaks through the BAT line, keeping your stop loss in line with BAT level.
Trade result here was
Trade 1 entry 9337 exit 9373
Trade 2 entry 9307 exit 9337
Trade 3 entry 9289 exit 9337
Trade 4 entry 9289 exit 9337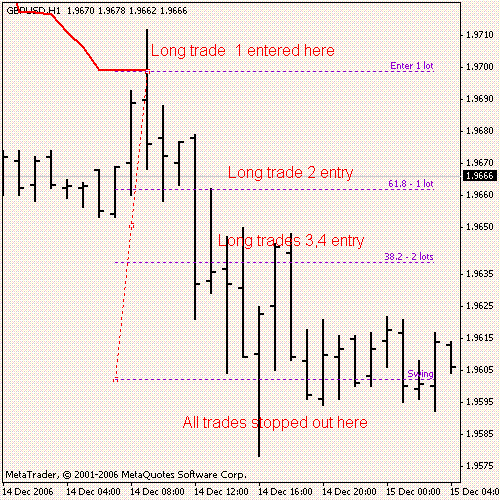 The are losses too…these are often caused by nasty little spikes but the trouble is we cannot tell if it is a nasty little spike or a brilliant breakout or just a change of trend.
Share your opinion, can help everyone to understand the forex strategy.