This formation seem to work better when the 20 and 50 flatten out in neutral territory. between 20 and 80 then taking that type of trade should work plus its psychologically better when it comes to watching it.
Example of bundling of Stochastics:As for the stochastic bundling I was checking out some stuff and noticed they are al ot better
when there is no trend and its just a range.
But when there iss a trend the stochastic bundling could happen and price will continue up.
In the pictures Sexy Stochastic forex system in action.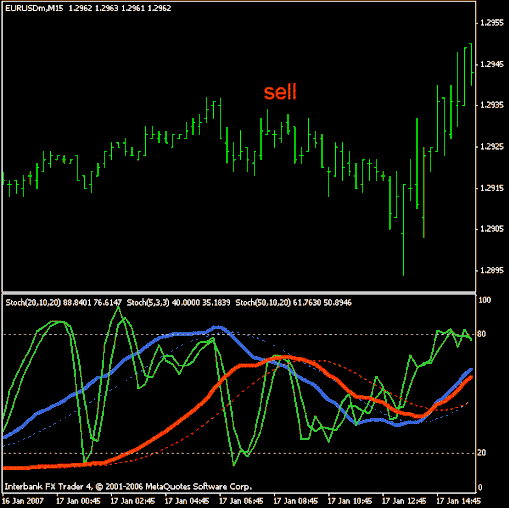 That is a slingshot when the 20 and 50 are over 80 or under 20 and the 5 pulls back and then follows the 20 and 50. Maybe you have looked into it more but a quick glance and I have noticed its better to trade this when the pair has been ranging which is the case of usdchf. Nonetheless its a perfect way to catch reversals and very efficient but I would rather take a trade with the trend and since there is a trend in even as small as a 1 or 5 min chart then I look for those. To me they are high percentage
Share your opinion, can help everyone to understand the forex strategy.
Forex Stochastic Strategies
Forex Method